You are here
Work/Travail/Arbeid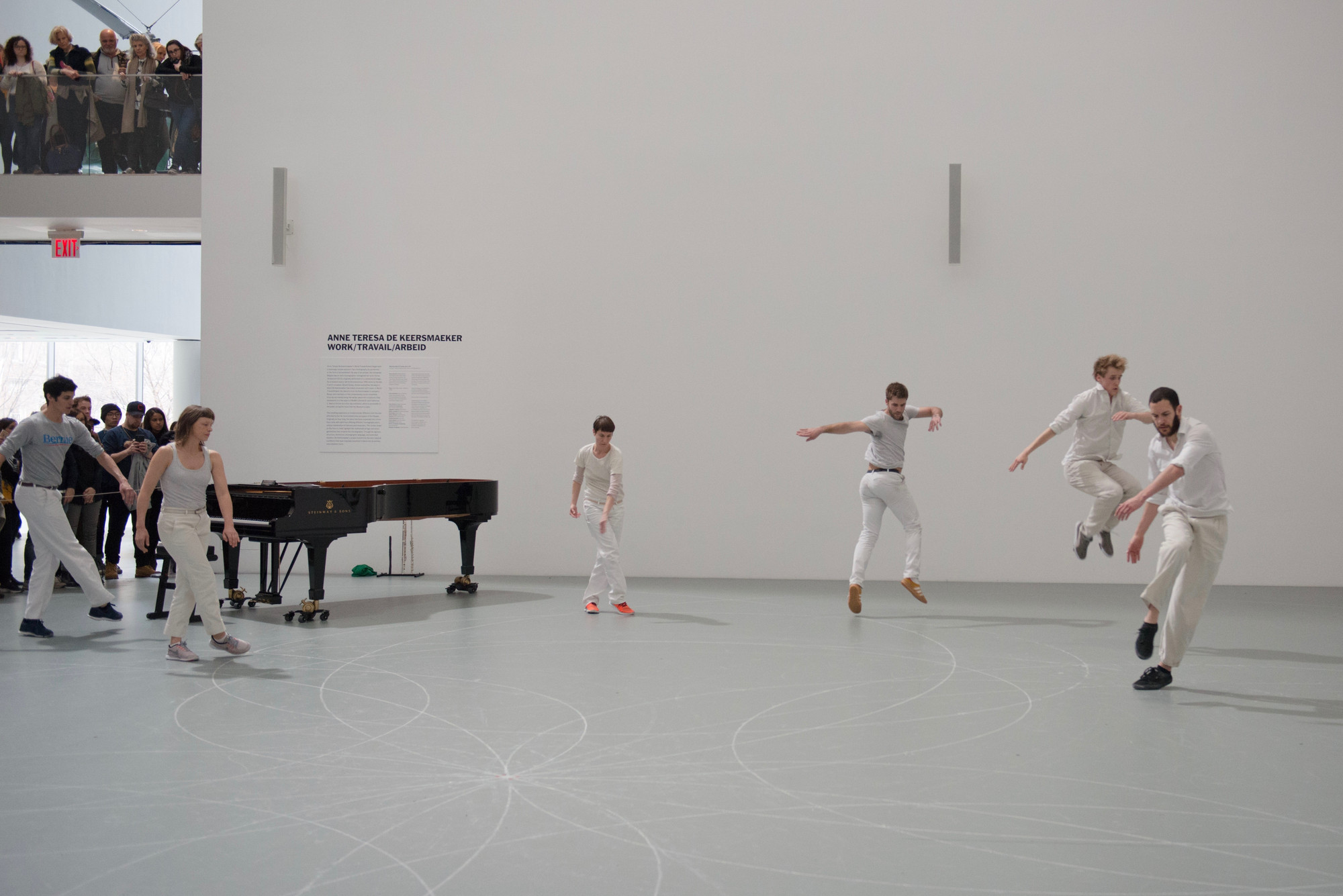 Anne Teresa De Keersmaeker, Work/Travail/Arbeid, 2015. Installation view, The Museum of Modern Art, March 29, 2017. © 2017 Anne Teresa De Keersmaeker. Photo: Anne Van Aerschot

From March 29 through April 2, the murmuring sounds in MoMA's tall atrium made way for the sounds of Gérard Grisey's Vortex Temporum (1996). While dancers translated Grisey's score, inscribing the atrium with traces of its sonic structure, visitors permeated the performance as they sat, stood and moved throughout the gallery.

The exhibited dance was Anne Teresa De Keersmaeker's Work/Travail/Arbeid, a site-specific reimagination of her 2013 choreography Vortex Temporum, performed to the same score. With Work/Travail/Arbeid, De Keersmaeker investigates whether choreography can be performed in the form of an exhibition. The performance transports the dancers and musicians from the theatrical black box to the museum's white cube where they unravel Grisey's score in cycles of nine hours.

Music and dance are inextricably intertwined. The dancers follow the music very closely, spelling out the score's intricate details as they cycle away from and then back to a shifting center. The bodies of dancers and musicians move in tandem; as their bodies twist, a piano turns. At times, they even exchange roles as musicians circle around the space, dancers bang on the piano and instruments are exchanged. In the meantime, time spirals on in an endless vortex while the audience comes and goes.

Between segments, the dancers retrace a series of concentric chalk circles along the atrium's floor, providing an initial trajectory around and within which the dancers and musicians move. But this demarcation is merely fictitious. The performance, continuously altered by the number of visitors and dancers, takes on different constellations, ranging from a maelstrom of bodies to an almost sacred ritual in a spotless white room. The structure of the dance enmeshes with that of its audience. The choreography continuously reorients the composition and grouping of the public as the dancers move among them, while the visitors in turn influence the course of the choreography by their position and viewing habits. One can feel the wind, smell the pearls of sweat, and sense coincidental moments of contact as the dancers whiz by, brushing against each other and the public in their passing.

Central to De Keersmaeker's investigation is exactly this insurmountable bodily dimension. The dancers are unable to become objects, nor are they creating them. Sensing their bodies from up close makes one intimately aware of the dancers' bodies, endurance, and skill. By transposing the dancers from a theatrical, evening setting to normal working hours in vivid daylight, De Keersmaeker reveals the physical labor that is essential to the practice of dance.

When I get back to campus and withdraw myself in the library, my mind goes out to the dancers, who continue their work at the same time. Our shared temporality and work endures, within and outside MoMA's white cube.